Welcome to Mr GlobalNews
Bringing all the news, sports, gossips and all in one place!
Monday, 15 May 2017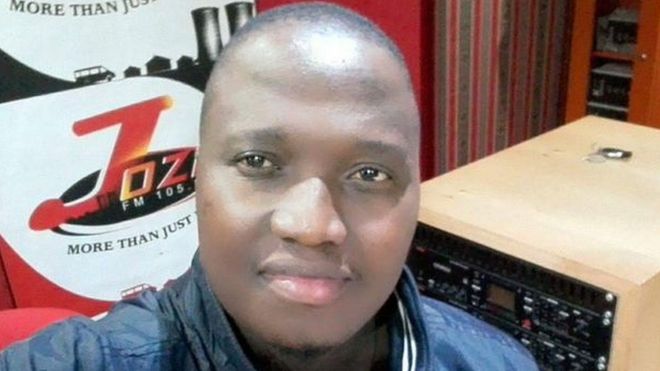 South Africans are paying tribute to a former actor on popular local TV series Generations who was killed during a mugging on Sunday night.
Mandla Hlatshwayo and his friend were shot after confronting a group of men who had robbed women of their mobile phones in a pub in Soweto.
Those who knew the 40-year-old have described him as a selfless man.
South Africa has one of the highest murder rates in the world with more than 50,000 cases reported every year.
Many are using social media to send message of condolences to the family of Mr Hlatshwayo, who was also a disc jockey for local radio station Jozi FM.
The hashtag #RIPMandla has been trending since news of his death broke on Monday morning.
Jozi FM head Mpho Mhlongo, who confirmed the star's death, noted that Mr Hlatshwayo's father was also killed some years ago during a robbery.
Mr Hlatshwayo's death has sparked a debate around how to tackle the country's rampant crime levels but it makes many realise there are no easy solutions, says the BBC's Pumza Fihlani in Johannesburg.
There have been no arrests yet.
Friday, 12 May 2017
Does Pastor Kumuyi have a ✈ PRIVATE JET?: https://www.naij.com/1104240-pastor-kumuyi-private-jet.html
Sunday, 9 April 2017
Foreign Affairs Minister Geoffrey Onyeama says Nigeria and South Africa have set up a 24-hour early warning system to protect Nigerians from unwarranted attacks.
Onyeama said at the News Agency of Nigeria (NAN) Forum in Abuja that Federal Government was ready to intervene.
"Wherever any Nigerian is threatened or in difficulty, we will always intervene quickly, an example of this was in Italy, you will recall last year or the year before there was a Nigerian who was attacked and killed.
"We quickly engaged with Italian Government and really took all the necessary steps, arresting people and pay compensation to the family. So we will always engage to protect Nigeria lives wherever they may be.
"We are hoping now to set up a 24-hour call centre so that Nigerians anywhere in the world can call a particular number whenever they are in distress,"
He said that the Nigerian High Commission in South Africa had been directed to facilitate legal support to help the victims of recent xenophobic attacks in the country to get their compensations.
The minister said that the victims of the attacks had been advised to make inventory of their losses through a mechanism that had been created, known as the early warning unit.
"What we have done is that we visited the scenes of these attacks; we spoke to victims, we saw their businesses and we advised them to make an inventory of their losses.
"And, that the mechanism we have created, the early warning unit, what will then happened is that they should submit all their claims through the Nigerian High Commission to be presented at a high level meeting to push the issue of compensation.
"First of all we have to see what the insurance laws provide and really take it from there; the important thing is that this should be addressed.
"We also asked the high commission to facilitate with legal support, to identifying lawyers and all that to help in the process.
Onyeama decried attacks on Nigerians in South Africa and India which sometimes led to death and expressed concern that the South African situation was more troubling because it often re-occurred.
"We have engaged directly with the highest levels of government of South Africa. The Vice President of South Africa spoke with the Acting President at the time
"I went to South Africa with the Minister of Interior and we were able to get the South African Government to set up an early warning unit.
"We wanted an institutional mechanism that will address the issue of xenophobia in South Africa.''
Onyeama said that the Ministry of Foreign Affairs identified the fact that the Nigerian Union in South Africa did not have any access to the South African Government.
He said the Nigerian community felt it was at the mercy of the South African police.
"We were able to get the early warning unit, comprising the Nigerian High Commission there and the Nigerian Consulate but most importantly, the Nigerian Union in South Africa.
"On the South African side, the Ministry of Foreign Affairs, the Ministry of Home Affairs which is in charge of the police and the police.
"They will be meeting regularly to share intelligence, share information, build trust and develop strategies for early warning intervention.
"We thought that was a very important achievement; it is institutionalised, they meet once every quarter or they could meet earlier," he said.
The minister said that he had directed the Nigerian High Commissioner in South Africa to arrange the first meeting as quickly as possible.
He expressed the hope that the step would go a long way to address the situation.
Onyeama described the attack on Nigerians in India as a one-off thing because it was a response to a particular incident.
He said what was gratifying about the Indian case was that the Indian Government was very quick in condemning and arresting suspects. (NAN).
Gunmen suspected to be militants on Saturday night stormed Ishawo in Ikorodu, a Lagos district and shot three soldiers and five policemen.
It was yet to be ascertained if the security operatives were dead or alive.
It was gathered that the militants stormed Woodland Estate and engaged personnel of Operation Awatse in a fierce gun battle.
The gunmen, who took the operatives by surprise, allegedly fled into neighbouring creeks after the attack.
It was gathered that residents of the Estate have been apprehensive since the incident, with many calling for another military raid of the surrounding creeks.
Spokesman for the Lagos Police Command, Olarinde Famous-Cole, an Assistant Superintendent (ASP) could not be reached for comment at the time of filing this report.
Four people were killed in a four-alarm fire which broke out at an Oakland apartment building in 2551 San Pablo Ave, Oakland on Monday, March 27th. Four others were taken to the hospital for treatment, including two children.
One of the victims has been identified as a 36-year-old Nigerian man, who stayed in Room 223. The coroner said his name is not being released until the victim's family is notified.
According to neighbours, he kept to himself, loved computers and would sketch Oakland landscapes with a set of colored pencils.
His background is something of a mystery. Neither neighbors nor mental health providers who referred him there know much about his personal life, or how he wound up living in a second floor room of the halfway house run by Urojas Community Services.
According to Oakland Fire Battalion Chief Erik Logan, about 80 to 100 people lived in the West Oakland building, which housed people recovering from addiction. He said crews were able to rescue seven people before the intensity of the fire forced firefighters from the building.
Officials said they received calls reporting the fire around
6 a.m.
and crews were quickly on the scene. However, the blaze was well underway and they rapidly elevated the fire to four alarms and retreated from the burning structure. The blaze was visible for several miles and sent a massive plume of smoke over Oakland.
The three other victims named Edwarn Anderson, 64, Cassandra Robertson, 50, and Ashantikee Wilson, 41, have been identified and named by the Alameda County Coroner's Office. But the Nigerian man was badly burned.
The coroner was finally able to identify him by a single fingerprint, but his name is being withheld until family can be notified — a fruitless search so far.
All research so far has led to dead-ends. Sheriff's investigators learned he once lived in Cincinnati, but nothing more. One person who might have known him, Wilson, his apparent roommate in the San Pablo building, also died in the fire. "We're having a hard time getting a hold of (the family),""Alameda County Sheriff's Office spokesman Sgt. Ray Kelly said. "Everybody we talked to doesn't know him well or was just a friend. We don't know how he ended up here."
Coroner's officials were able to determine the person died from smoke inhalation. Days later, deputies received a hit from the FBI lab from a fingerprint, but it provided little more than a name. Investigators believe the man's family may reside in Nigeria and attempts to contact anyone there have been unsuccessful, even after speaking with his social worker and others, Kelly said.
The deadly fire tore through the three-story building nearly four months after an inferno claimed 36 lives at the Ghost Ship warehouse across town, in the Fruitvale district.
As fire investigators continue to probe what has initially been ruled an accidental candle fire, the coroner's office is working to bring closure by finding the family of the fourth and final victim from Room 223.
Urojas co-director the Rev. Aurea Lewis, who is hosting a memorial for the four victims on
April 23
, remembered a man who stuck to a pattern. She likened him to the Dustin Hoffman character in the movie "Rain Man." He had lived with Urojas for more than three years, she recalled. "He was a very quiet, observant man," Lewis said. "He came to church every
Sunday
and in his own way praised."
She has no idea how he came to the United States. "It was very sketchy," she said. "He was extremely savvy with computers. Computers were his way of expressing himself, and he liked to paint with colored pencils," Lewis said.
Source: Mercury News/San Francisco CBS Local